JT 3" Full exhaust, Saab 900/9‑3 without cat with 1 silencer
Item number: 11-JT62-K1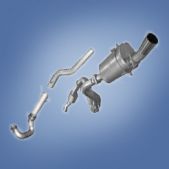 Product description
In short: 3" JT complete exhaust without catalyst.
For whom: For those wanting better spool-up, improved top end and a sporty sound!
Details: 3" (76 mm) exhaust system manufactured from 1,5-2 mm double side aluminized steel. Back pressure reduction: 60% (appr. 600 Pascal). Stainless matt polished tail pipe. NB! No catalyst included, i.e. the exhaust must be complemented with your choice of catalyst. Catalyst replacement pipe, for temporary use, is included.

Please note that this exhaust has high volume exhaust note and may not cater to all tastes.